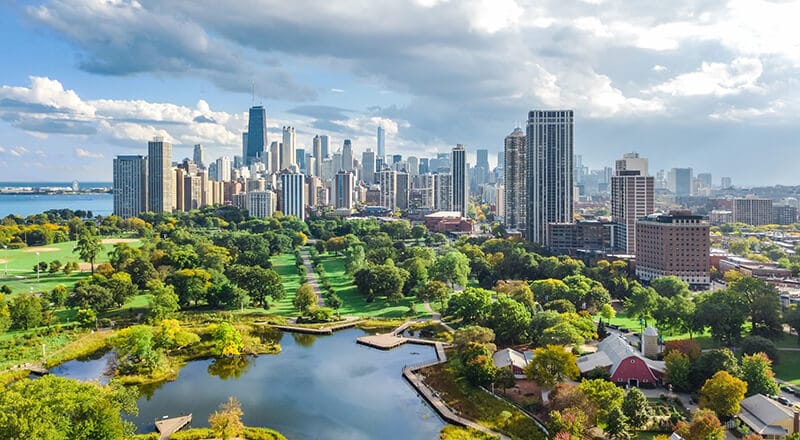 A Brief Guide to Buying CBD Oil in Illinois
Illinois is one of the more progressive states in the union, and many steps have been taken to legalize cannabis in the state. The state's General Assembly passed the Illinois Cannabis Regulation and Tax Act in May 2019, which will see recreational marijuana use legalized from January 1, 2020.
This will come seven years to the day after Illinois became the 20th state to introduce a medical marijuana program.
Hemp-derived CBD oil, meanwhile, has been legal in Illinois since the passing of the 2014 Farm Bill, which allows for the cultivation and use of industrial hemp and its products.
And the Illinois Industrial Hemp Act also permits the cultivation and research of industrial hemp by both the state government and state universities.
Is CBD Oil legal in Illinois?
LEGAL – Hemp-derived CBD oil can be purchased legally in Illinois.
LEGAL – Marijuana-derived CBD oil is legal for medical use only (pre-January 2020).
As it stands, CBD oil made from marijuana can only be obtained from state-licensed facilities in Illinois with a valid medical marijuana card; but this is set to change.
For residents who are not part of the state's medical-marijuana program, however, CBD products made from hemp offer a safe (legally-speaking) alternative. These products have THC levels below 0.3%, meaning they do not produce a "high". This makes them available to purchase from retail stores across the state and online.
Do you need a doctor's note?
As of this writing, in Illinois, access to medical cannabis and its various forms requires the written certification of a medical professional. This means a medical practitioner must first verify that a patient suffers from one or more of the approved medical conditions before the patient is issued with a medical marijuana card.
Thankfully, this does not apply to hemp products. CBD oil made from hemp does not require a recommendation or a prescription from a doctor.
Is CBD hemp oil legal in Illinois? 
Hemp is an incredibly versatile variety of the cannabis plant. It can be used to produce paper, rope, and even clothing. And the oil derived from the hemp plant also has some potentially beneficial properties.
CBD hemp oil is legal and widely available in Illinois since it contains only trace amounts of the psychoactive compound THC. This means it does not produce any intoxicating effects when consumed. Instead, it may help promote a sense of calm and relaxation.
CBD hemp oil is available in a variety of forms.
Where can I buy CBD Oil in Illinois?
In Illinois, you can buy CBD products from the Healthy Hemp Oil online store and have CBD oil shipped directly to your door. For top-notch products at affordable prices,  check out our extensive range of CBD oil products, including tinctures, sprays, supplements and edibles.
In summary
If you don't meet the criteria for the medical marijuana program in Illinois, a high-quality CBD hemp oil product could be an easy-to-use and cost-effective alternative, depending on your situation.
Before you buy, we recommend conducting your own research into the effects and benefits of CBD, checking out our product reviews, and reading our in-depth guide to CBD.
Frequently Asked Questions
---
Can you buy CBD oil in Illinois?
CBD oil can be purchased legally in Illinois. CBD oil made with hemp is legal to buy without the need for a valid medical marijuana card. Using a reputable website like Healthy Hemp Oil, you can have a wide range of CBD products shipped directly to your home.
---
Are CBD capsules legal in Illinois?
CBD hemp oil capsules are legal in Illinois. Capsules are a great way to incorporate CBD into your daily routine. CBD capsules are flavorless, discreet, and go down easily. The best part is that they contain a measured serving of CBD oil, allowing you to track serving size with ease.
---
Are CBD cartridges legal in Illinois?
Hemp-derived CBD cartridges are legal to buy and use in Illinois. Easy to transport and use, pre-filled CBD oil vape cartridges offer a fast, practical and simple way to vape CBD without any mess. The CBD vape oil liquids contained within are specially formulated to be used in a vape or e-cigarette for your convenience.
---
Are CBD edibles legal in Illinois?
CBD edibles are legal to use in Illinois. Edibles are a tasty way to enjoy CBD, as the natural ingredients help overwhelm the earthy tones of the hemp. Best of all, they're incredibly easy to take discreetly, require no special preparation or equipment, and they come in a variety of forms and delicious flavors.
---
Are CBD gummies legal in Illinois?
CBD gummies made with hemp oil are legal in Illinois. Gummies are a fun and simple way to add CBD to your daily routine. They're discreet, easy to use and hassle-free. They can also be enjoyed at home or on-the-go, with each gummy containing a specific amount of CBD.
---
Disclaimer: Here at Healthy Hemp Oil, we thoroughly research everything we publish. However, this article does not, and is not intended to, constitute legal advice. All information contained here, and elsewhere on our website, is for general informational purposes only. This content may not contain the most recent legal or other information. Please seek appropriate counsel for your own situation.
Source: https://healthyhempoil.com/is-cbd-legal-in-illinois/